If you're into astrophotography, you need a telescope that will enable you to capture the fascinating celestial phenomena in all their splendor.
The best telescope for astrophotography should have a fast focal ratio, high-quality optics, and a mount that ensures precise tracking.
To help you find an astrophotography telescope that will help you capture breathtaking photos of star clusters, nebula, and galaxies, we have narrowed down the best telescopes that are optimized and top rated for astrophotography. Check out our top picks below.
Disclosure: This article includes affiliate links that may provide a commission to me at no cost to you if you make a purchase through those links.
What are the Best Telescopes for Astrophotography?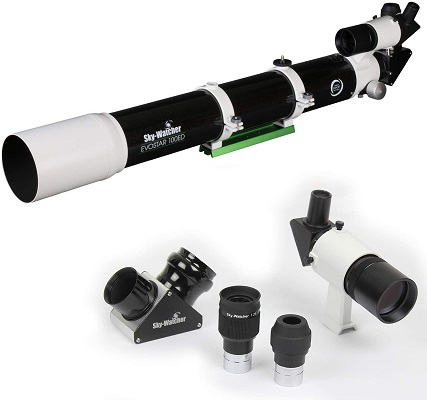 Overview
The Sky-Watcher EvoStar APO Doublet refractor telescope was designed with astrophotography in mind. It's equipped with a 2-inch dual-speed focuser that minimizes shaking and the optical tube features baffles that reduce stray light.
Furthermore, the telescope uses ED doublet lens that features extra-low dispersion glass and metallic coatings to deliver the best color correction eliminating chromatic aberration. All these features work together to deliver jaw-dropping images of celestial phenomena.
The EvoStar is a very good all-around telescope capable of both high magnification views of planets and wider field views of galaxies, nebulae, and star clusters. Depending on your budget and the kind of celestial objects you will be photographing, you can opt for an 80mm, 100mm, or 120mm aperture telescope.
Key Features
APO Doublet Refractor Telescope
80mm, 100mm, and 120mm aperture size options
ED optical glass with high-transmission coatings
Pros
Easy to use and provides great photos even in the hands of a beginner
A compact design makes it easy to take where you want it
Superb contrast and color correction and HD resolution
Dual-speed Crayford-style focuser is smooth in operation
Baffled to minimize stray light and matte black tube interior prevents light reflections
Comes in a foam-lined aluminum case
Great for capturing bright objects as well as wide-field phenomena such as galaxies
Easy to setup and cools down quickly
Cons
The focuser is only of medium-level quality which is an issue when using heavier eyepieces
Pricing
Bottom Line
If you're looking for the perfect balance between stellar images and portability, the Sky-Watcher EvoStar won't disappoint. It's also amazing value for an ED Refractor telescope.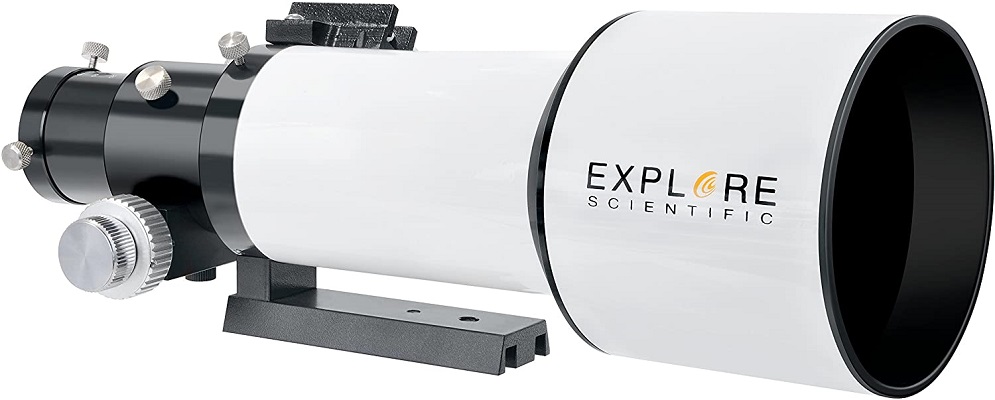 Overview
Being a true triplet APO, the Explore Scientific ED 80 Air Spaced Triplet captures spectacular images of deep space objects. Even if you've never photographed the night sky before, you will be able to capture top-quality images without a steep learning curve to conquer.
The build quality is top-notch and the telescope is compact and lightweight for ease of maneuvering wherever you want to set up. It makes a fantastic telescope for grab-and-go use as well.
Key Features
Air Spaced Triplet ED
80mm objective diameter
480mm focal length
F6 focal ratio
EMD Coatings
Pros
A true triplet APO refractor telescope
Fast focal ratio for deep space astrophotography
Great telescope for grab and go usage
Compact and lightweight thus easy to handle
Easy to use even for beginner astro-imagers
Sturdy build great, build to last years
Cons
The mount it comes with has a lot of play
Pricing
Bottom Line
The Explore Scientific ED 80 is a top-rated telescope for deep space astrophotography of distant phenomena. If you're looking to capture awe-inspiring photos of galaxies, nebulas, and star clusters, you can't go wrong here.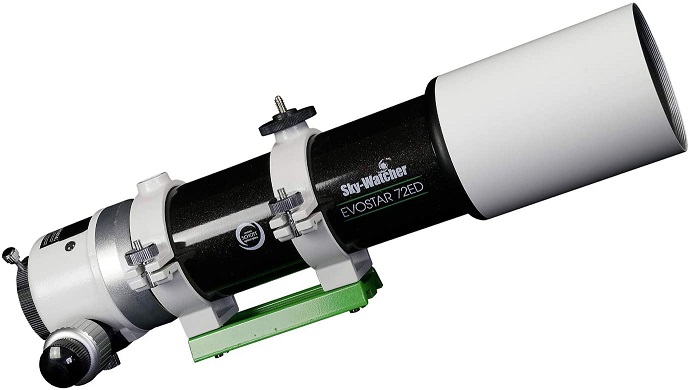 Overview
The Sky-Watcher Evostar 72 APO delivers great wide fields images which is exactly what you need for astrophotography of deep space phenomena. It captures stunning photos of nebulae, galaxies, and star clusters such as the Andromeda, Orion, and the Pleiades.
It's also incredibly easy to use even for first-time users. It even has a dual-speed focuser for ease of focusing on whatever you're imaging. As an APO refractor at a great price (under $600), the quality-price ratio is unparalleled.
Key Features
APO Refractor Telescope
72mm objective diameter
Pros
Excellent wide field view for deep space astro-photography
Lightweight thus easy to carry wherever you need it
Easy to setup and focus even for beginners
Excellent optics at an accessible price
Sturdy build quality and aluminum case
Cons
You will have to purchase additional accessories such as a field flattener separately
Pricing
Bottom Line
Whether you're a beginner or a seasoned amateur astronomer looking for a great astrophotography telescope at a budget-friendly price, the Sky-Watcher Evostar 72ED is worth a look.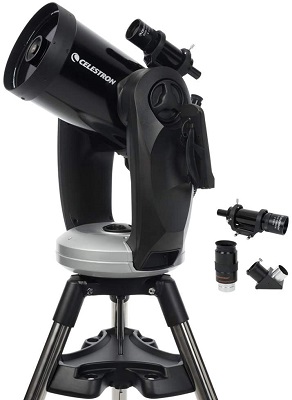 Overview
The Celestron CPC 800 XLT Computerized Telescope is a favorite of many experienced amateur astrophotographers. This is thanks to a computerized mount and internal GPS that makes it easy to seek and track the objects you're interested in and an optical tube that provides awe-inspiring images of the planets and their features as well as deep space objects such as globular star clusters.
Even though the CPC 800 XLT is an Altazimuth telescope, it's excellent for even long exposure astrophotography when used with an HD Pro wedge to polar align it and ensure precise tracking. The solid base and heavy-duty tripod also make it easy to focus on what you want to capture without shaking getting in the way.
Key Features
8 inch objective diameter
Computerized altazimuth mount
Internal GPS receiver
203mm focal length
Pros
Excellent optics of both bright objects and deep space phenomena
Can be placed on a wedge for polar alignment
Computerized and GPS enabled to simplify locating and tracking of objects
Sturdy drive base and heavy duty CPC tripod
Powerful yet easy to maneuver thanks to carry handles
Cons
Requires a wedge in order to function well for long exposure photography
Does not come with a power source for the GPS
Pricing
Bottom Line
Excelling in both visual astronomy and astrophotography, the CPC 800 XLT is an excellent all-around telescope and worth a splurge for any serious amateur astronomer and imager.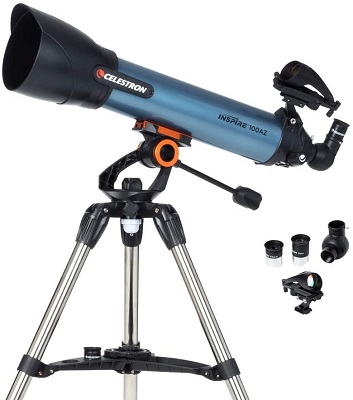 Overview
The Celestron Inspire 100AZ is an easy-to-use refractor telescope for beginners. With a 100mm objective diameter, it packs enough light-gathering power to deliver clear and bright images. You can see and photograph the surface of the moon, the rings of Saturn, and Jupiter's moons.
Its short tube delivers a wider field of view for viewing and capturing even the objects beyond the solar system such as the Orion Nebula and the Andromeda Galaxy. It comes complete with a smartphone adapter so you can start taking photos of celestial objects right out of the box.
Key Features
100mm objective diameter
f/6.5 focal ratio
660mm focal length
Fully coated glass optics
Altazimuth mount
Pros
Beginner friendly, no alignment required
Wide objective for planetary views
Short tube delivers stunning wide field views
Integrated smartphone adapter
Built-in and removable red LED flashlight
Great for both terrestrial and astronomical use
Cons
You will have to upgrade some of the accessories to get the best experience
Pricing
Bottom Line
Easy to use yet delivering amazing optics of both the solar system and deep space objects, the Celestron Inspire 100AZ is the best astrophotography telescope for beginners of all ages, including kids.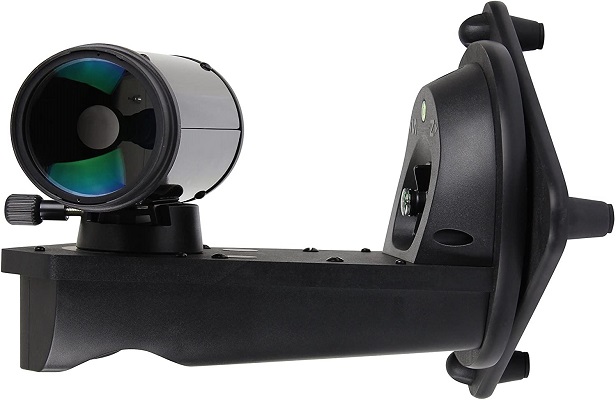 Overview
The Sky-Watcher Virtuoso Telescope comes optimized for imaging celestial objects. It features a motorized alt-azimuth mount for smooth tracking of objects in the night sky and comes with a mounting bracket for a DSLR, camcorder, GoPro, or cell phone.
The optics are stunning, with great contrast and crisp clarity. Most importantly, the telescope measures 14 x 14 x 19 inches and weighs 15lbs making it a great choice of a grab and go telescope that's easy to carry anywhere and ready to use at a moment's notice
Key Features
90mm objective diameter
1250mm focal length
Motorized alt-azimuth mount
Pros
Compatible with all types of cameras
Comes complete with mounting bracket for a camera
Motorized mount for ease of finding and tracking objects
Solar filter and Solar finder included
Automatic shutter release cable for Canon
Sun Dual Axis Encoders allow you to move the mount without losing alignment
Cons
Tracking objects in the sky can be a little of a challenge
Pricing
Bottom Line
The Celestron Inspire 100AZ is a terrific value for a grab-and-go scope. The image quality and function are superb for the price. A fantastic choice for the casual astrophotographer.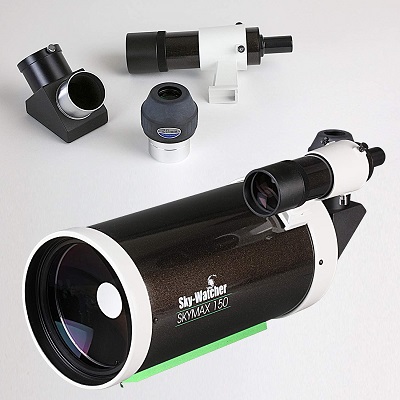 Overview
Thanks to a wide aperture and a long focal length, the Sky-Watcher Skymax 150mm is a great option if you're looking to image the moon and planets. It provides sharp high contrast views with incredible detail and has a coated corrector plate that gets rid of chromatic aberration. In addition, the tube is fully baffled to keep stray light at bay.
You can see and photograph Jupiter with its cloud bands and moons, the rings of Saturn, and double stars with amazing detail. It's also good enough for imaging some messier objects such as planetary Nebulae and Globular star clusters.
Key Features
Compound-Style telescope
150mm Objective Diameter
Altazimuth Mount
Pros
Top notch optics with no noticeable color aberration
Altazimuth telescope is easy for a first time user to figure out
Has an excellent focus range and smooth focus knob
Compact form factor that's easy to use
High performance telescope in a compact and amazing value
Cons
Not very good for photographing deep-sky objects
Pricing
Bottom Line
For a beginner looking to get started in astrophotography by photographing the moon and planets, the Sky-Watcher Skymax 150mm offers a lot of aperture and optics for the buck.
How to Choose the Best Telescope for Astrophotography
The best astrophotography telescope comes down to whether you intend to photograph objects in our solar system, i.e. the moon and the planets, or messier objects in deep space. Here are the features to consider when choosing.
Focal Length and Focal Ratio
A good telescope for photography of wide-field deep space objects such as galaxies, nebula, and globular star clusters should have a fast focal ratio of about f/4. Speed is indicated by the focal ratio, which is calculated by diving the focal length with the aperture.
Telescope Mount
The telescope mount is also a very important consideration when it comes to a telescope for photographing objects in the night sky. Deep-sky astrophotography requires a computerized equatorial mount for precise tracking of objects. This kind of mount has to be polar aligned in order to account for the Earth's rotation. On the downside, an equatorial mount comes with a steep learning curve for a beginner.
Although an Altitude/Azimuth (ALT/AZ) mount is easy to use and can track an object and keep it centered, it's not polar aligned and thus not ideal for long exposure shots of objects in the distant skies.
Mirror/Lens Quality
The quality of images you will be able to capture also depends on the quality of mirrors or lens your telescope has. It's important to choose a telescope equipped with high-quality optics with coatings applied to optimize the image quality. If you're choosing a refractor, for example, opt for one with extra-low dispersion (ED) glass or go for a triplet APO if your pocket allows.
Aperture Size
A decent objective diameter is still essential for brightness and resolution when imaging dim objects like galaxies. However, it's not as important as it's with visual astronomy. You can capture great images even with a smaller telescope with a 50mm aperture.
Ease of use
Lastly, it's important to consider how easy to use the telescope is. This is especially important when looking for a grab-and-go telescope you can use at the spur of the moment. You might also be after a more advanced telescope that takes time to set up but captures jaw-dropping images, making the extra effort worth it.
Which is the best astrophotography telescope for beginners?
Apochromatic refractors are the ideal astrophotography telescopes for beginners. They are easy to use and consistently capture high-quality images of wide-field phenomena such as galaxies. You don't have to figure out collimation or deal with flexure and cool down.
Why are refractors better for astrophotography?
Refractor telescopes are like high-end camera lenses. They make it very easy to capture quality Astro-images without much effort. The best refractor telescopes for astrophotography also use ED glass to eliminate chromatic aberration and improve the image quality.
Are reflector telescopes good for astrophotography?
Ritchey-Chretien and reflector telescopes are also great choices for astrophotography. With a reflector, you can capture far more with a given time exposure and at a higher resolution than you can with a small refractor.
A Schmidt-Newtonian telescope also works well for astro-imaging thanks to a corrector plate that helps to reduce coma. On the downside, fast Newtonian reflectors require precise collimation and are not beginner-friendly.
What is the best telescope for deep space astrophotography?
A telescope with a fast focal ratio and wide-field views works best for deep space astrophotography. The Explore Scientific ED 80 Air Spaced Triplet is the best telescope for photographing deep space phenomena such as galaxies and nebula.
That's a Wrap!
The kind of telescope you use for astrophotography plays a part in determining the quality of images you end up with. Hopefully, our best telescopes for astrophotography reviews and buying guide will make it easier to find a telescope that will enable you to capture professional-level astronomy photos right in your backyard.