Not many things can pique a child's curiosity quite like the mysterious night sky. Whether you're tired of answering questions about the moon or would like to instill an interest in astronomy, a telescope is a great gift to educate a child about the universe through hands-on exploration.
The best telescopes for kids are easy to use and inexpensive but they deliver clear images that will stimulate kids' imagination and foster their curiosity to learn more. In this article, you will discover the best kids telescopes that won't have you breaking the bank but will deliver the best experience for the child you have in mind.
Disclosure: This article includes affiliate links that may provide a commission to me at no cost to you if you make a purchase through those links.
What is the Best Telescope for Kids?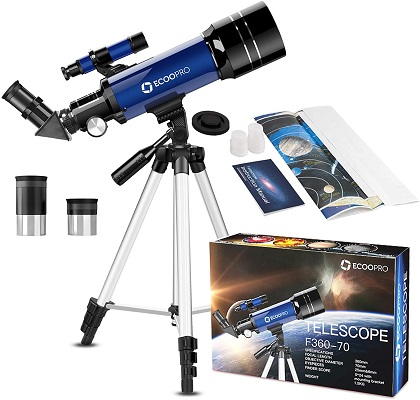 Overview
The Ecoopro 70mm Telescope is a hit with kids and adults alike thanks to the ease of use and the clarity of images it delivers. The combination of the 70mm aperture and fully coated optics ensure that images appear incredibly bright and clear. It also has a sturdy build quality that makes it suitable for kids
At night, young stargazers will be able to study planets and their moons and also use the telescope to look at birds, wildlife, and landscapes during the day. It comes with a star map that makes it easy to locate objects in the night sky.
Key Features
360mm focal length
70mm objective lens
25mm and 10mm eyepieces
Altazimuth Mount
Manual Focus
Pros
Easy to setup – no tools required
Finder scope make it easy to find target objects
Tripod height adjust from 19.6 to 42 inches
Useful for stargazing and terrestrial observations
Package includes everything required to get started
Easy to move around (wears a mere 3.88lbs.) and comes in a carry case
Cons
The tripod it comes with is flimsy, which makes it hard to line up
Pricing
Bottom Line
It's hard to go wrong with this top rated telescope for kids. It provides a great experience for kids in terms of the ease of use and also the viewing experience.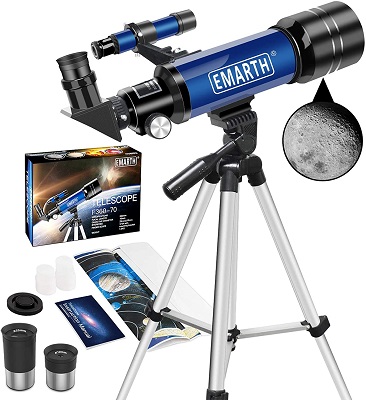 Overview
The Emarth 70mm Refractor Telescope comes with impressive specs and features at an entry-level price. Featuring a 70mm aperture, fully coated optics, and BAK-4 prism, your kid will have a blast studying the moon with this telescope as it transmits crystal clear images of the lunar surface. You will also get a good view of other bright objects in the night sky including planets and their moons.
During the day, it works well for looking at animals, birds, and scenery. Another thing that makes the Emarth Telescope one of the best telescopes for kids is how kid-friendly it's. It's sturdy and pretty easy to figure out. You can let your child tinker with it and learn how telescopes work in a hands-on way.
Key Features
70mm objective size
360mm focal length
Altazimuth Mount
Manual focus
BAK-4 prism
Fully coated optical glass lens
10mm and 25mm included
Pros
Top notch optics at an entry level price
Included tripod is adjustable in height
Sturdy yet lightweight and portable (2.47lbs.)
Comes with a great lunar map
Delivers a crystal clear up-close view of the moon
Can even be used to view other bright night sky objects
Suitable for daytime observations as well
Easy to set up and no collimation needed
Cons
Although kids can see most of the planets, they won't be able to see the planetary features
Pricing
Bottom Line
The Emarth 70mm is a solid entry-level telescope for kids interested in astronomy. It's especially a good choice if the child is hard on things as the sturdy build quality can take a beating.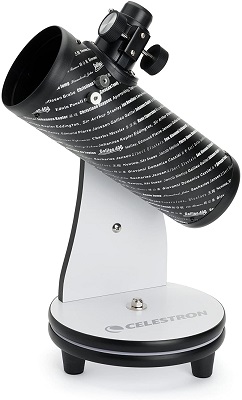 Overview
As with astronomy telescopes for adults, Celestron is one of the best brands to consider when looking for a great telescope for kids. The aptly named Celestron 21024 FirstScope telescope is the best astronomical telescope gift for a kid interested in space.
The Dobsonian-style telescope is ready to use at a moment's notice. The optical tube makes it easy for little hands to pinpoint exactly what they want to observe. All young astronomers have to do is move the tube in the direction of the target object. With a 76mm optical tube, the telescope reveals great details such as the craters on the moon, the Orion Nebula, and the Pleiade.
Key Features
76 mm objective lens
180x maximum useful magnification
20mm and 4mm eyepieces
Altazimuth Mount
300mm focal length
Pros
Tabletop design is easy to setup and stays stable
Easy to focus by moving the tube
Incredibly compact and space saving form factor
Stylish finish makes it a decorative accessory
Always ready for use no setup required
High-quality materials and workmanship
Cons
The telescope cannot be setup on a traditional tripod
Not powerful enough to view planets and their details
Pricing
Bottom Line
The Celestron FirstScope is a fantastic starter astronomy telescope that delivers fascinating views helping foster a kid's interest in astronomy. In fact, it's a great first telescope even for beginner adults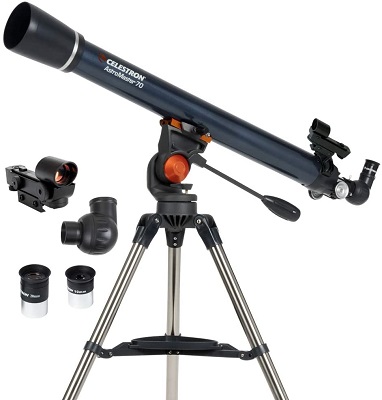 Overview
The Celestron AstroMaster 70AZ Refractor Telescope is a fantastic choice of a real stargazing telescope for kids without spending too much. It's powerful enough to open up young eyes to the craters on the surface of the moon, the moons of Jupiter, and the rings on Saturn. Kids can also see other bright phenomena such as the Andromeda Galaxy and the Orion Nebula.
It's a versatile dual-purpose refractor telescope that also comes in handy during daytime observations. Also, a kid-friendly telescope that's always ready to use at a moment's notice. Last but not least, the telescope is very well built for a lower-priced model.
Key Features
70mm objective diameter
Fully coated glass optics
Altazimuth Mount
20mm and 10mm eyepieces
Pros
Powerful enough to see planetary details
Very easy to use even for a novice
Suitable for both terrestrial and celestial viewing
Comes with an adjustable steel tripod
Comes with an astronomy software package as a bonus
Cons
The red-dot StarPointer it comes with is not the best
Pricing
Bottom Line
Are you looking for a real telescope a young one can use to see celestial phenomena and also land-based objects up close? The Celestron AstroMaster won't disappoint. It has a sturdy build quality that will ensure it lasts long in little hands.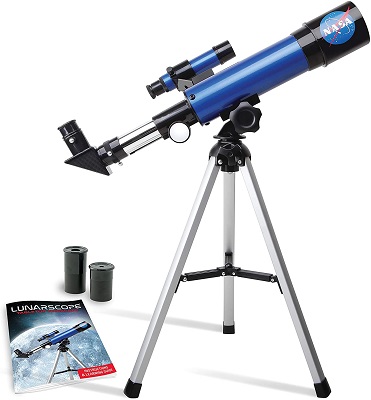 Overview
The NASA Lunar Telescope for Kids is the perfect gift to get a child with an interest in space. As a first telescope, it's designed to provide an up-close view of the moon in all its splendor. A budding astronomer will be thrilled to discover the craters and bumps on the moon.
The clear view is sure to spark or nurture their interest in space. Additionally, it comes with a guide composed of fascinating facts about the moon.
Key Features
Equatorial mount
Up to 90x Magnification
Manual focus
Pros
Easy to assemble and use thanks to the smooth mount
NASA logo to encourage pretend play
Great for viewing the surface of the moon
Comes with a supplementary guide about the moon
Cons
Only good for viewing the moon. Not powerful enough for planets
Pricing
Bottom Line
The moon is one of the easiest targets for young eyes to observe and the Lunarscape is a great children's telescope for this. The NASA branding is great for pretend play, especially for a budding space scientist.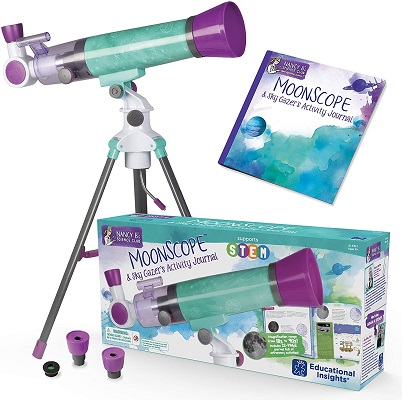 Overview
The Educational Insights Nancy B's Science Club MoonScope is designed for one thing: to give kids an up-close view of the lunar surface. It's a great telescope to give an elementary-age child a clear view of the moon.
With up to 90X magnification power, it shows the moon with stunning clarity and reveals even the craters and bumps on its surface. As a bonus, it comes with Nancy B's Science Club Sky Gazer's Journal. Overall, a great package to educate kids about the moon in a fun, hands-on manner.
Key Features
18x and 90x magnifications
4 mm and 20 mm eyepieces
Pros
Cool scientific toy that supports STEM education
Comes with an educative journal about the moon
Shows the moon and the features on its surface
Incredibly lightweight and easy for kids to handle
Cons
Not powerful enough for observing planets and stars
Pricing
Bottom Line
The Moonscape is a great telescope to educate an elementary school child about the moon. The included astronomical journal is a bonus that bumps up the value for money.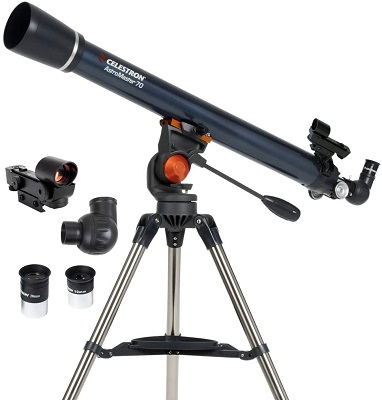 Overview
If your child has shown a great interest in space and you can already see a budding astronomer, he or she will appreciate a more serious telescope, and the Orion StarBlast II 4.5 Equatorial Reflector Telescope is a great choice. As a bonus, this is a telescope the whole family including the adults will have a blast looking through.
.As a reflector telescope, it's a spot-on choice for viewing celestial objects beyond the moon. Thanks to the 4.5-inch aperture, It reveals the moon in impressive detail, offers a breathtaking view of Jupiter and its moons, and also shows galaxies, nebulae, and star clusters. Since it has an EQ mount, it can also be used for astrophotography.
Key Features
114mm objective diameter
450mm focal length
Equatorial mount
25mm and 10mm Sirius Plossl eyepieces
EZ Finder II reflex sight
Pros
Great for a sub $200 entry-level telescope
Great view of planets and deep-sky objects
Great for both adults and kids
Assembly takes only a few minutes
Fairly easy to use for a beginner
Solid construction won't break in kids hands
Cons
Being an Equatorial mount telescope, it has a more complicated setup process. However, it also comes in an easier-to-use tabletop version.
Pricing
Bottom Line
The Orion StarBlast is sure to give any child with a serious interest in space a good view of the deep sky objects. It's also a telescope the whole family will enjoy.
Is a telescope a good gift for kids?
A telescope is a great gift for kids because it's both fun and educational. Young minds are innately curious and a telescope helps satisfy their curiosity. It's a great gift to get kids off screens, encourage learning through hands-on exploration, and develop an interest in astronomy.
How do I choose a telescope for a child?
Here are the features that make a telescope great for children:
Ease of Use: Ideally, the telescope should be so easy to put together that a kid can set it up on his or her own. Locating objects to observe and focusing on the target object should also be easy. After all, kids tend to lose interest when something is frustrating.
Sturdy Build Quality: Kids are hard on things. A telescope for kids has got to be able to take a lot of abuse without breaking apart. A sturdy build quality will ensure that the telescope will provide enjoyment for years to come.
Stability: Whether it's a tabletop telescope or a telescope designed to be set up on a tripod, the telescope should be stable once set up. It shouldn't wobble or trip easily.
Versatility: A telescope that kids can use both during the day and at night is the best option. They should be able to pick it up any time they are in the mood for it.
Mount: A telescope with an ALT-AZ or Altitude/Azimuth is ideal for young observers as it's easy to setup and point to Target objects. An Equatorial mount is more complicated to setup as it requires alignment with the North Pole. Because of the steep learning curve, it's not ideal for beginners and kids. It might still be worth it if you're interested in astrophotography.
What type of telescope is best to buy for a child?
A refractor telescope is ideal for children because it's easy to use and can be used for both stargazing and terrestrial viewing. The downside with this type of telescope is that it doesn't work very well for viewing deep sky objects.
A reflector telescope is the best for viewing the distant objects found in deeper space. Through this kind of telescope, young eyes can see planets and their details, nebulas, galaxies, and star clusters. However, they won't be able to use it to observe land based objects as it doesn't work well for terrestrial viewing.
A compound telescope combines the best of both refractor and reflector telescopes. As such, it works for both celestial and terrestrial viewing. The quality of optics is also superior. On the downside, these benefits come with a higher price tag attached.
Do kids telescopes really work?
There are two types of telescopes for kids: toy telescopes and real telescopes. Toy telescopes don't really work as they come with dismal magnification powers. Real telescopes with decent aperture sizes work and can be enjoyed even by adults.
Can kids use telescopes on their own?
Although older kids can learn to use a telescope on their own, adult supervision is still necessary as a safety precaution. Some of the celestial objects including the full moon, Venus, and Mercury are incredibly bright and the light they give off can damage a child's eyesight. A moon or solar filter should always be used. Observing the sun through a telescope is a no-no as it can cause instant blindness.
That's a Wrap!
A good telescope for kids should offer a good viewing experience at a pocket-friendly price. All the best telescopes for kids reviewed here meet these criteria. They are also easy to use, sturdy, and tested, and proven to deliver a great experience for kids and even beginner adult telescope users.